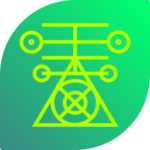 Gibrievida started as a side project for personal usage, mostly to track sportive progress. But it is designed to track any activity you want. I am therefore open for new ideas. :)
It's concept is based on categories, activities and records, where categories group activities by topic, like Sport or Leisure. Activities are a kind of template for records that hold the data. A record consist of an activity together with starting time, duration and optional repetitions, distance and notes.
You can sort your records by different parameters to get a better overview over your progress or simple about what you did the last days. And thanks to Nathan Follens and Åke Engelbrektson it is already translated into Dutch and Swedish – beside my own German translation.
If you want to learn more about Gibrievida, look here.
And yes, I know, the icon is shit. I think I will never be the next Icon-Van-Gogh…